Advice on the Harsh Reality of High Interest Rates and Leland Real Estate....
Posted by Jay Seville on Friday, October 27, 2023 at 10:37:13 AM
By Jay Seville / October 27, 2023
Comment
On HIGH Interest Rates and Leland Real Estate....
Everybody this is Jay the owner of ocean views real estate in Leland. You have to admit that is ironic. When you are looking at Leland NC homes, etc. you are looking at the most cutting edge website in SE NC including finding the value of your home, etc. Real quick the subject on the table is with interest rates at 7.5% – and I'm going to call them politicized interest rates…I'll leave it at that–should you buy a home now or should you wait for the rates to come down? So real quick here's some examples. You've got Mallory Creek Plantation, Grayson Park, Brunswick Forest, Compass Pointe…all of our main neighborhoods you know. The prices are high and have not come down at all even with the high interest rates. You used to have to buy a home within the person 3 days or if it would not be available; it would be under contract. Now half of the homes sell in the 1st week and the other half take easily 2-3 months is very common. It's a different market. It is balanced. It's like right in the middle of a seller's market and a buyer's market.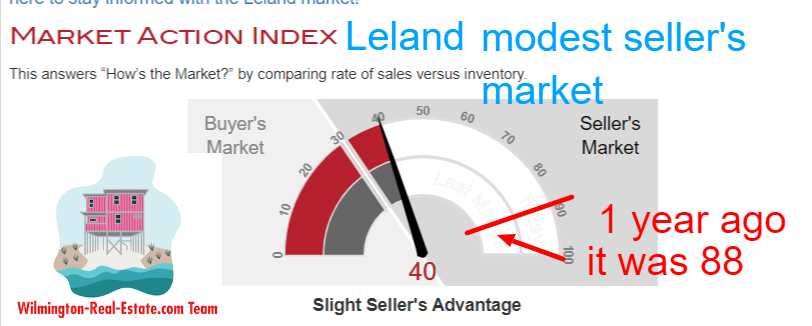 It's much more pleasant to work in to be honest with you. When it's a frenzy market that sucks to work in. It's like throwing spaghetti against the wall. I'm very adept at winning multiple offers scenarios; I would say three out of four scenarios with multiple contracts my people win. Because I'm in tune with the market and I know how to play the game and I have relationships with these listing agents. But it's still no fun. It's just brutal conditions to work under.
So with higher interest rates should you buy a home now or wait for the interest rates to come down? Bottom line is when interest rates come down prices are going to go back up even higher. So if we go from 7.5% to 5.5% then that $450,000 is going to cost $525,000 no problem, and you just lost $75,000 of Home equity. What you need to do is buy it now–even if you can't move here yet–rent it out for $2500/month. And then a few years from now the home is worth a lot more. And someone else has been paying your mortgage the last 2 years. And then you'll refi and you'll be making even more profit or you'll be in a better spot living in your primary residence. And your monthly payment may go from $2500 down to $2,200 for example. So by all means you should try to buy the home now or you will be losing net worth because all of that appreciation will be wasted. You will just have a more expensive house even though you've got a lower interest rate. You can still get the lower interest rate later because you'll refi. But for now lock it in before the prices go up.