Dissecting the Regional Sales Contract–Part II
Posted by Jay Seville on Monday, October 20, 2008 at 5:35:48 AM
By Jay Seville / October 20, 2008
Comment
This is a continuation from 
What You Need to Know–the Regional Sales Contract for Northern Virginia Real Estate.
My understanding is that the sales contract used to comprise all of 2 pages; now the contract is usually 23+ pages.  Got to love it!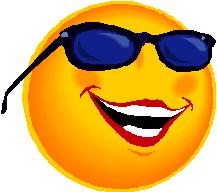 6. Paragraph 10B covers the appraisal contingency in the contract.  A few years ago this was often crossed out to make contracts more appealing to Sellers when competing against 3-18 other contracts.  Yes I came across 18 offers once back in 2004.  It was nutz!

These days contracts are just about always contingent on the appraisals.  I've had about 4 appraisals come back low this year creating a bit of drama in the process.  Often appraisals are not accurate and a 2nd appraisal gives a bigger picture.  You see appraisers are not on the front line of real estate.  They are behind the front line of very productive agents working in niche areas who know  the markets better than anybody.  It seems like often the bogus appraisals are associated with lenders outside of the area. A low appraisal can be an opportunity also to negotiate a lower sales price, but when the appraisal is a farce it can only prevent 2 people who want to do business from just that–closing a deal.  One example was a BR+den in clarendon that appraised for $400,000.  Both the listing agent and myself cried bullcrap.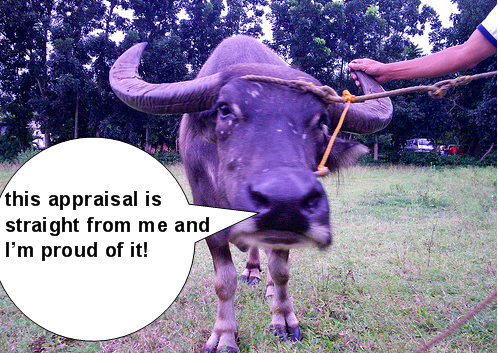 A 2nd appraisal more in line with what was selling in the immediate 2 blocks came in at $425,000.  So take appraisals with a grain of salt as often they are out of sync and limited in what data they are allowed to use.  I'd say 70% of time appraisals are accurate.  Other times appraisals are too high in my experience but that ends up having no consequence in the process.
7. Paragraph 10C on the appraisal contingency: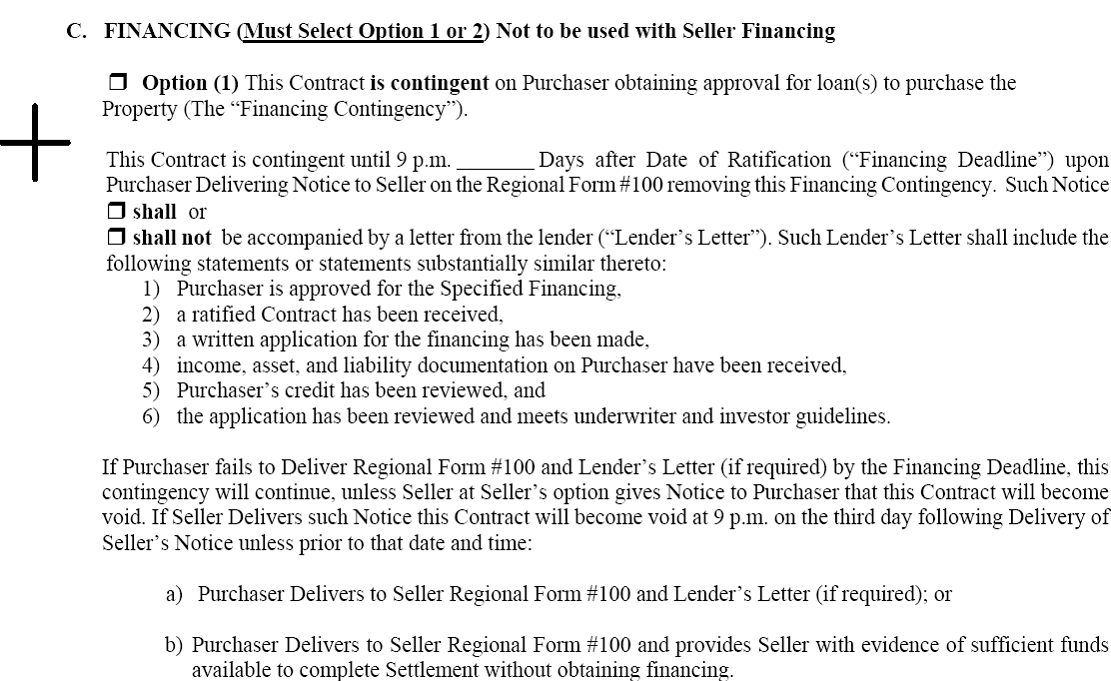 The main thing to know about this paragraph is that it can be used in an aggressively  strategic manner in some situations.  For example, you really like the home, but aren't quite sure if you want to move forward or not.  Or perhpas you do want it but need the approval from a 2nd party such as your fiance.  However it is super clean and charming and priced right or low and I tell you it is likely to go under contract this 1st week based on my having my pulse on the market.  So 1 option to cover yourself is to submit a contract, negotiate and get the home under contract and ratified while we have a 3-5 day window following of a financing contingency–an "out" to the contract essentially while you make up your mind on the home.  Of course there are other outs in the contract as well, but the main point is that sometimes it is the aggressive route to get a home off the market and under contract even if you have not completely decided yet if you really want it or not.  Often real estate is time sensitive and I consult my clients to play to win from many angles with the advice I give.  It's about preserving your interests and choices. 8.  Paragraph 16 on the termite inspection by the 
building inspections Perth
.  Most lenders require a termite inspection for their self interest as they do not want to use their money to secure a home about to fall apart with extreme termite damage.  I always recommend we get our own termite inspection as the cost is negligible and we can trust our report more than the Seller's.

9. Paragraph 20 discusses occupancy by the Buyer of their new home.  The overwhelming majority of the time the Buyer move in the home or has access to do so on the closing date.  However at times, there are circumstances where the buyer may want to move into the home–at least their plush 
Exquisite Living
 furniture–before closing or the Seller may want to remain in the home a couple weeks after closing.  These 2 scenarios are negotiable as is everything in the contract with Pre-Occupancy and Post-Occupancy agreements.
10. Paragraph 26 of the regional sales contract pertains to the subject of Default.  To read the default paragraph more clearly 
go the contract itself to see a MUCH larger print
.  Besides reading the obvious 7 points of the default paragraph I wanted to point out a line I have my buyers cross out and initial: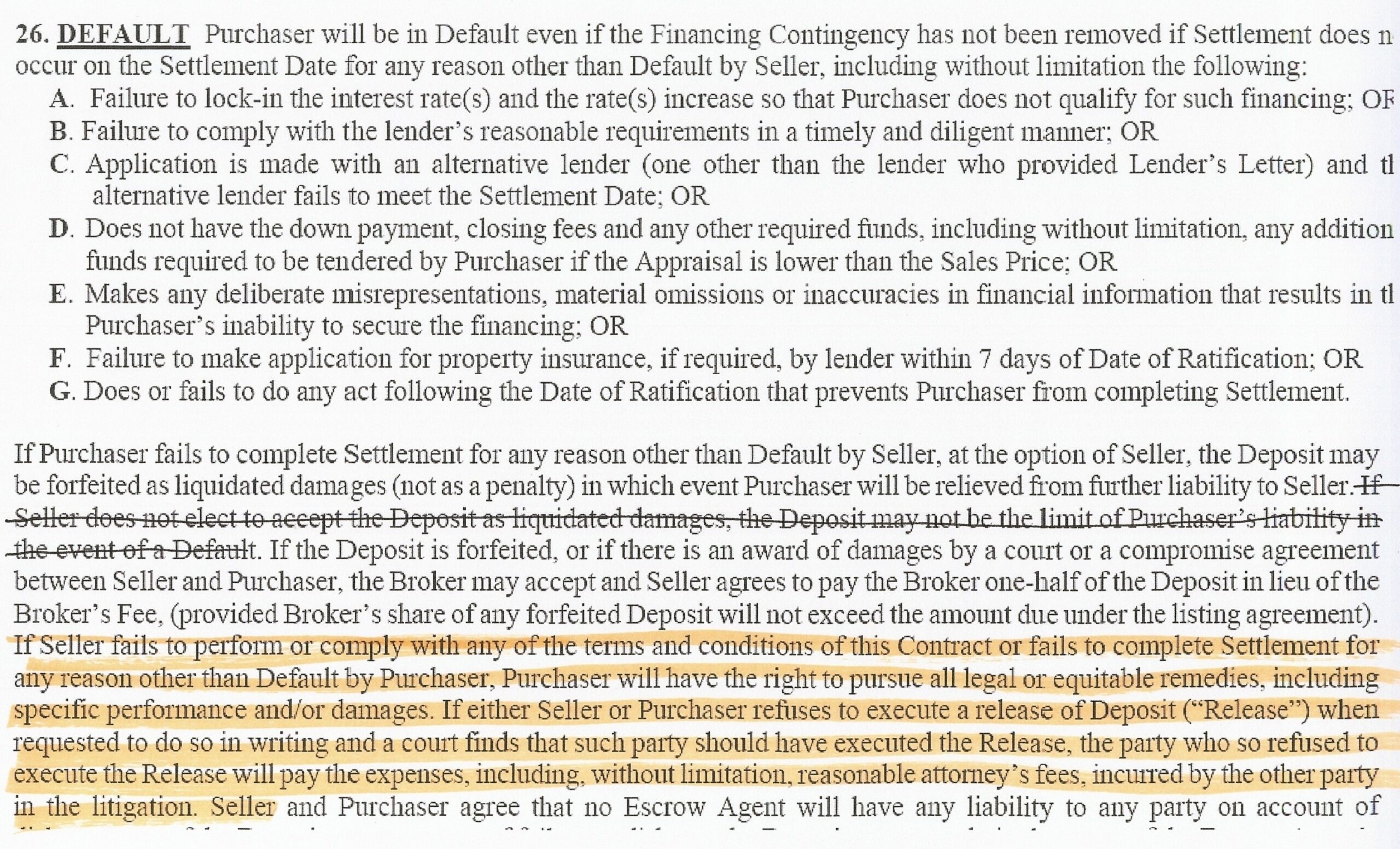 We cross out the line that prevents the damages a Seller can pursue against the Buyer from being more than the EMD–earnest money deposit.  In other words we try to limit damages by seller towards you if you default to the earnest money deposit in a worst case scenario instead of leaving you open to further damages.  Now I'm the only agent I know of that crosses out this line in Northern Virginia but like I said my team at JustNewListings.com is very aggressive in protecting you financially. The reality of the default clause has to do with AMD–assured mutual destruction.  Let's say you are not able to close on time–do you think the Seller really wants to relist the home and start over because you can't close for several days and are technically in default.  Probably not….They'll be upset and annoyed and perturbed and they will live and sell their home to you a few days later.  AMD is a great thing in that it serves in keeping contracts together even when people are upset with each other….
11. Paragraph 29 is the Definitions paragraph and below are 2 of the main definitions that come into play:

"Days" are counted by the 1st day following delivery and the time period ends at 9pm on day specified.  This is important for computing various contingency periods and when items/signatures/initials are due.  Keep in mind when something is late for whatever reason…AMD usually rules the day.  This goes back to what I said in the 1st part of this subject–there is a difference between the paper world of real estate (sales contract) and the real world of real estatate (people, necessity, etc.). In addition ratification is the day all terms are agreed to in writing–not the expiration or removal of the contingencies. 12. In the Virginia Jurisdictional Addendum which is mandatory on all contracts there is an out for homes or condos that are in associations giving the Purchaser 3 days after receiving the condo docs or association docs to void the contract.

This out in the contract can be used for getting the home off the market while you finish deciding on whether you really want to move forward or not with it.  Was it intended for this purpose?  I assume not, but that is its practical application and if that doesn't sit well with NVAR they should come up with a better form.  Until then my buyers & I will use the form as we see fit in the process of purchasing a home, and I will aggressively represent & negotiate for buyers using every possible angle for our advantage. 13. 
Home Inspection Addendum
 In this addendum I like to add a clause, "'Days' in Paragraph 1 (i) above shall be defined as business days."  This is much more practical in terms of meeting deadlines.  The main item to observe is section ii where the buyer can just void the contract after inspecting the home.    In Section i the Purchaser and Seller negotiate any inspection items taking into account that in addition all systems and appliances per paragraph 7 of the contract are supposed to already be in working condition. I could go on and Lord knows there are a lot more forms but these are the issues that usually Buyers and Sellers end up focusing upon.  If you have any questions on the sales contract let me know and if it is appropriate-something not clear cut–I will refer you to a real estate attorney instead which I am not.