Grayson Park Homes in Leland NC-- Inside Info -- Stevens Fine Homes
Posted by Jay Seville on Thursday, October 25, 2012 at 7:17:48 AM
By Jay Seville / October 25, 2012
Comment
The Inside Story on Grayson Park in Leland by Stevens Fine Homes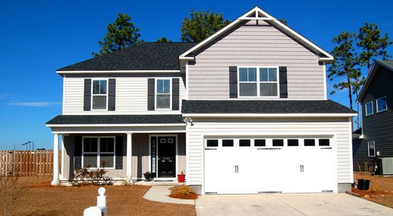 You can see the Leland real estate listings here. Another format Leland Homes for sale is at my other website. Alright, I'm Jay Seville, the Team Leader for the justnewlistings.com team. I'm here with Kristen Ohler at the Model Home for Grayson Park in Leland. How you doing, Kristen? Doing well. Thanks for coming out today. Great. So, a few questions about Grayson Park; what are some of the amenities because I see a huge clubhouse and pool over there? Tell me about that. We do. The Amenity Center is probably one of the most popular features here at Grayson Park. We have an Olympic-size swimming pool. We've a clubhouse, a 2500 square foot plantation style clubhouse that home owners can rent out for birthday parties and whatnot and there's also a fitness room inside the center. Oh, there is also a fitness center? Oh, yes. Well, that will save people money on their gym membership. On their gym membership, absolutely. That's for sure. And we have two lighted tennis courts as well and a great. No, they are tennis courts people can play at night. And in the evening. Okay. That's pretty intense because I've been to a lot of new home communities in Wilmington, North Carolina and surrounding and almost none of them have full amenities like this. You're right. And that the price point. And we also have the playground which is located right behind us as well which is. Oh, a nice style. That's great. Fabulous. That will save you some space in your own backyard so. Well, that's a lot of amenities for a community. What is the price point then? How expensive it is to have all these amenities? Absolutely. And our price point here starts at a 149,000 and amenities run about $70 a month that includes everything that you see here. So, for just 150, one can have a ton of amenities. Yeah. That's – I don't know of anywhere else in the region where that's possible. Right, I don't either. What are your, what are your more expensive homes? Our more expensive homes, we arrange from the 149 price point up to about 235. Okay. And that goes our most expensive home is a 4000 square foot model. 4,000 square feet. That's right. That's amazing. And that's in the mid 200s. For a brand new home because in Wilmington, normally that home would be at least 350 and in a lot of neighborhoods, it's a lot more expensive and it would be usually from the 1980s built. So, there is some great value here.
Leland Real Estate and New Homes USDA Loans
Tell me about the USDA loans. USDA loans are a fabulous loan program the government has in place where the homeowners are actually able to get into a home for a 100% financing, a $1000 is all that's required with us and a lot of times they're able to get that money back at closing which is amazing so really with no money down, they can own a brand new home. It's just, it's really just a fabulous, fabulous loan program. Yeah, I deal with. It's a fixed interest rate too so you don't have any surprises as the loan. That's fantastic. I deal with a lot of people and a lot of times it's their first home or, you know, they're just regular good middleclass people and this, this USDA loan is making life so much easier for them and I think it's fantastic. It really is. It's allowing people to get into a home for even less than what they are able to rent for. Yeah. That's what happened with my client Pinky, we endearingly call her. She is raising her grandchild and she was paying 1100 a month but now she is getting a brand new home for just 900 a month. Just down the street from us. Right. It's amazing and Stevens Fine Homes is giving her a loaner home to live-in in the meanwhile, so she is saving still 200 a month on rent by living in a brand new townhouse in the meanwhile. What a great service Stevens Fine Homes is providing her.
Grayson Park Homes for Sale
Couple of more questions; how many homes are built in the neighborhood, Grayson Park? There about 140 families that live here and we've had 35 families purchase from us just this year and we've got four different neighborhoods that we're currently building. They are featured communities. Each neighborhood has about 45 to 60 homes. So, it still has a smaller kind of feel here with. Okay. There is like little sub-communities. That's right. Sort of by themselves. That's right. That's great. Are there a lot of children here and what's the elementary school? Elementary school is Town Creek Elementary and Leland Middle School and North Brunswick High School. So, there are – it's a mix of population where people from Wilmington area, people moving from the Northeast coming to enjoy our fabulous weather that we have here and. Yeah. This is a good example of it today. North Carolina. That's true. How far are we to the beach? Well, about a half an hour from seven different beaches to choose from so all the Brunswick County Beaches and the New Hanover County Beaches as well. Only seven beaches? I don't know if that's enough beaches for people to choose from. Only seven. That's one a day, different beach every day. That's nice. That's nice for a lifestyle. Well, let's go look at the map real quick and learn more about where we are in relation to Wilmington. Sounds good, come on in. Alright. So, we're back inside looking at the map. Show us on the map where we are, Kristen? We're located right here, this big red star and this is Leland, this is where New Hanover County is over here, Brunswick County is over here. So, to get to Wilmington, you just come right at 17. There're shopping, restaurants all that located in this area. Right. And, it's all new. Yeah. It's all shiny. Its' all shiny and new, just right up the road on 17 and as you cross over to get to Downtown Wilmington, you take the Cape Fear. You can see Wrightsville Beach over here and to get to north part of Wilmington, this is the Isabel Holmes Bridge. Right. We also, which is great, have a bypass that is currently under construction that's connecting from here to here. Oh, wow. That's going to save another five minutes. It will help alleviate. That will, that will make it easier to get to Wilmington from this community than a lot of other parts of Brunswick County. Yeah, you pick it up right here and like I said we're located just a mile down the road, you get on. Any idea what the timeline is on that being built? Sure, I do. About a year or? This section that they're working on connects 17 and 74, 76. That will be complete in the spring of 2013 and then this next will be completed in the next two years. So, we're looking about 2015-2016 and that all be done. Wow, that's great. That's great. So, how about coming into North Wilmington in the morning? Is that about 20 minutes, 25 minutes? 25 minutes. 25 minutes. Really, anyway you slice it, it doesn't matter what time, it seems to be always about 25 minutes. Right. I moved here from Northern Virginia. So, to me 25 minutes is fast because everywhere up there people had to drive 45 minutes or an hour or so. That's right. Fantastic. I think – oh, tell me about the Design Studio. That's right. Also, we've got a Design Studio located right here on 76 and we can see a picture of it. It's 2500 square feet. We've got three design consultants that will meet with you, help you choose all of your, all the colors, all the exteriors, interiors. How long does that take usually, the appointment? It's usually about a three-hour appointment. It's very thorough but it's very systematic and easy. So, they don't let it overwhelm you. Everything is there for you to see. Yeah. So, that's one of the. I'm sure they have walked many people through the process and they're probably good at helping husbands and wives get along relationally in the process. That's right. I am sure they had some interesting times. As a company, over 300 families purchased from us this year. So, we have got, we've got the systems down [Indiscernible] [0:06:50] I'd say. So, how many homes have sold this year? 300. You – so Stevens Fine Homes must be dominating the new home market. I'm – I see a poster over there saying that you all have 20% but, you know, as an agent with boots on the ground, I think that's way off. I am guessing it's at least 50% for what it's worked on my side. [Indiscernible] [0:07:14]. Alright. Any other points to make before we close out, Kristen? I think that's about it. We'd love to see you. Give Jay a call and we love to take you around, show you all about Wilmington and hopefully Grayson Park will be one of the stops on your tour. Well, I have several homes under contract with Stevens Fine Homes and my people are very excited and pleased with the results so far. So, we will be in touch. Wonderful. Thank you, Jay.