Latest Insights on Leland real estate market -- price decrease?
Posted by Jay Seville on Monday, July 10, 2023 at 8:26:56 AM
By Jay Seville / July 10, 2023
Comment
Leland Days on Market Shoots Up
The Leland real estate market is completely different than a year ago I will say that it is made a 90° turn. That is to say it is not a flat-out buyer's market where buyers have a ton of options and lowball on various properties, but it is not a seller's market in the same way either. For example you used to find that most of the listings probably 80% would be under contract in the first 5 days and many of them had multiple offers within 2 days. Now it is customary for a portion of the new listings to go under contract let's say four out of 10 or 5 out of 10 for example in the first week of listing. But then the other five that did not go under contract will be listed for 3 to 6 weeks--see graphic below!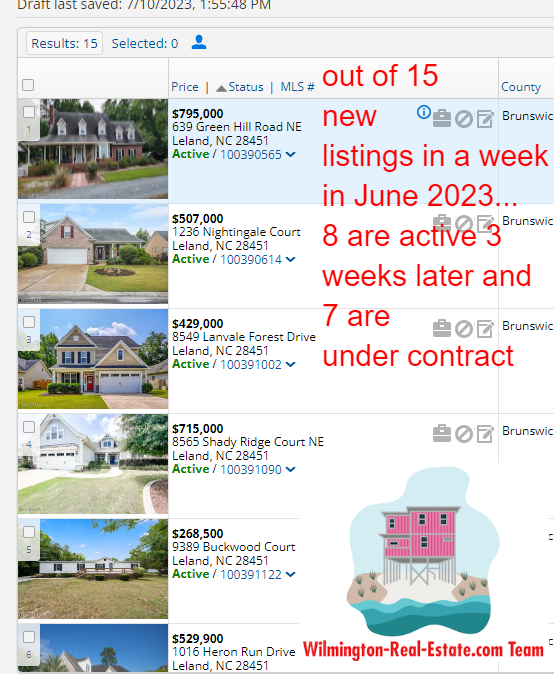 This is an extreme change in the market to a more balanced Market. However the good listings that are hot listings still usually go under contract within a few days but that can also not hold up because if several good ones in the same niche list the same week then half of them will be extended to three plus weeks of being active so everything is case-by-case. The things that massively changed and you see the changes coming weekly.
Example of shifting real estate demand in Leland
For example a couple weeks ago I had this market update from Altos research and it showed the index at 47; 2 weeks later the index has moved down to 43. A 40 Market action index equals a balanced market so it's just barely a seller's market right now and it's changing weekly or a monthly and we'll see where it ends up. The inventory has gone up significantly even though it's relatively low I think we're still like two and a half months of inventory.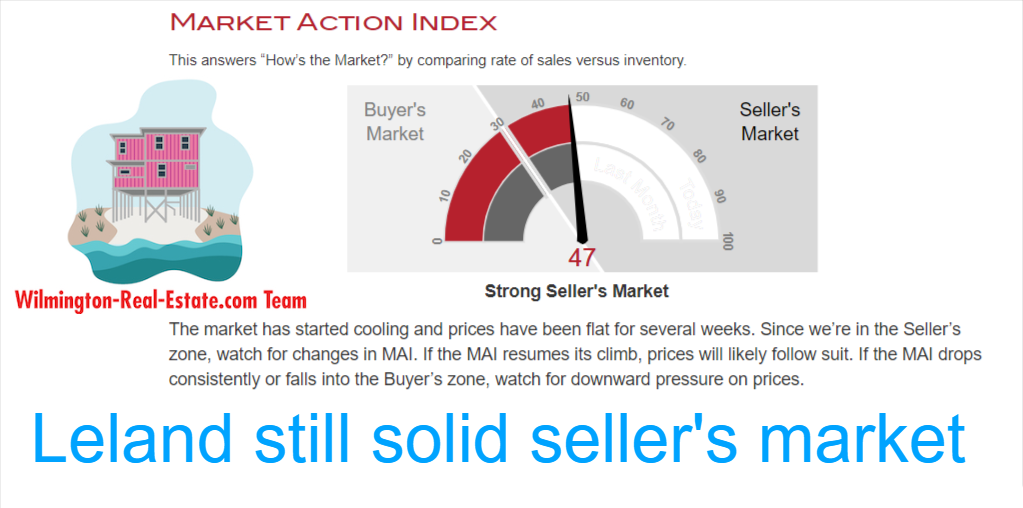 What does this mean for Leland Buyers and Sellers?
So how does this play out in the market when you're a buyer and seller of Leland homes? Well on the buy side if you are very impressed by a home that means others will be as well and you really need to try and get on top of it by day one or day two with an offer. And then you hope there are no competing offers. But you really don't have a good opportunity to negotiate. If you see the home and it's already been listed a week well then there's a good chance there was not demand for it, and it might take several weeks for it to sell. This opens up the door for some lower offers and negotiating and making the point that well you're off on your price otherwise it would have been under contract already....Now on the seller side you need to know that if you're fortunate and your home shows very well and it's what I call "shiny" and crisp there's a good chance it will sell the first week. However if it does not you can easily be listed up to a month or more. It's sort of the luck of the draw depending on which buyer is out there when you happen to list and what other homes listed around the same time you did. And no holding an open house will not change anything
.