North Carolina Beach Closings for Covid-19 Coronavirus and Vacation Rental Policies [revised March 30, 2020]
Posted by Jay Seville on Tuesday, March 24, 2020 at 10:26:09 AM
By Jay Seville / March 24, 2020
Comment
North Carolina Covid-19 Beach Closings Coronavirus Vacation Rentals Announcements
With so many North Carolina beaches at play it is challenging to keep track of the respective measures and declarations made by various townships in the area as it relates to vacation rentals and Covid-19 and general beach access.  Different beach towns have varied in their responses and things are pretty fluid.  As of now Governor Cooper (D) has shut down restaurants in the state and added another list of businesses that were to be shut down immediately such as hair salons, gyms, barbers, etc.
Beach closings and Vacation Rental Cancellations for Carolina, Kure, Holden, Topsail, Surf City, Ocean Isle Beach, Oak Island & Wrightsville Beach
https://www.facebook.com/townofcarolinabeach/ and https://www.carolinabeach.org/ As of March 20 Carolina Beach declared beaches closed along with town parking lots.  As of 3/25 the town has prohibited vacation rentals through April 22.

https://www.facebook.com/holdenbeachtownhall/ Vacation rentals are banned til April 4, 2020. Public parking is prohibited. As of 3/24 the beach access points have been blocked off as well. Only those with oceanfront or deeded neighborhood access can get on the beach.

https://www.townofkurebeach.org/ Holding 2nd emergency meeting on 24th and will probably post official notice shortly thereafter. UPDATE --- As of 3/25 New Hanover County has blocked public beach access points for the time being for the entire county.

https://www.facebook.com/ntbnc/  North Topsail Beach has suspended vacation rental through April 25.  Unlike other towns they did "require" current tenants just to up and leave on the spot.   Seems a bit more RATIONAL as the current tenant has already spread their germs around anyway no?  Maybe that person can plan on moving out instead of being kicked out....I respect NTB's more measured response over other towns. "all public beach parking and public parks within the Town's jurisdiction will be closed. Beach accesses remain open to foot traffic."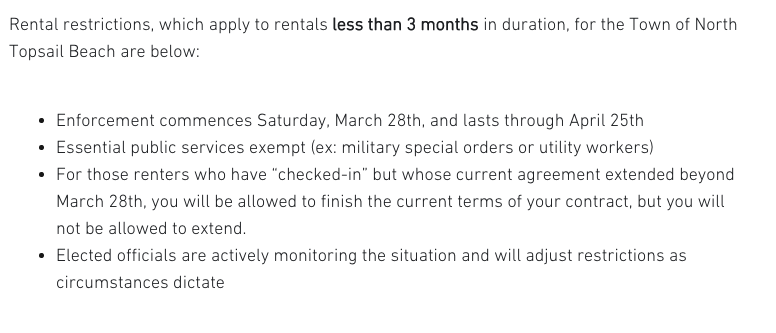 https://www.facebook.com/Town-of-Oak-Island-362808684054781/ Oak Island closed off public parking and accesses to the beach. Vacation Rentals have been suspended that are less than 90 days.  There is no end date for that edict currently. Any current short term tenants were asked to leave.  Policies will be reviewed regularly on all these items.  When can owners rent their Oak Island homes again for the Summer of 2020...?  who knows....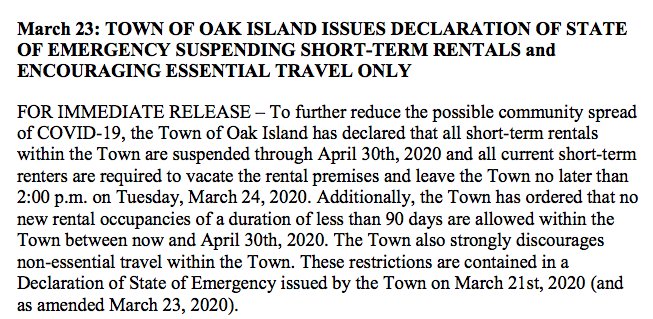 https://www.facebook.com/townofoib/  https://www.carolinabeach.org/ Ocean Isle Beach as of March 23 suspended vacation rentals through April 6, 2020. The town also closed its parking at the beaches. They will review their Summer vacation rental policies as more information and news comes into play.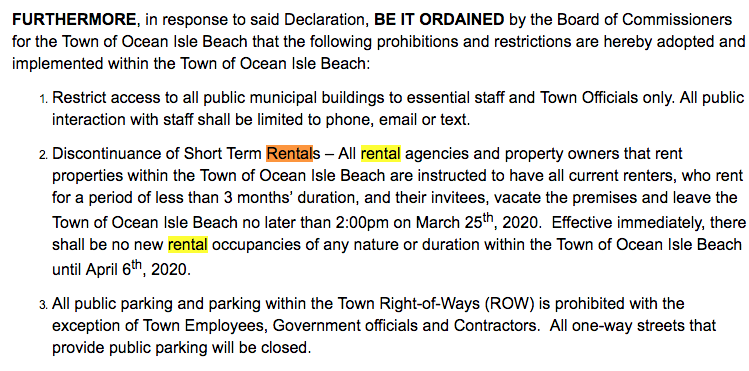 https://www.facebook.com/townofsunsetbeach/ Beach parking and restrooms are closed. Short term rentals are not allowed through April 22, 2020.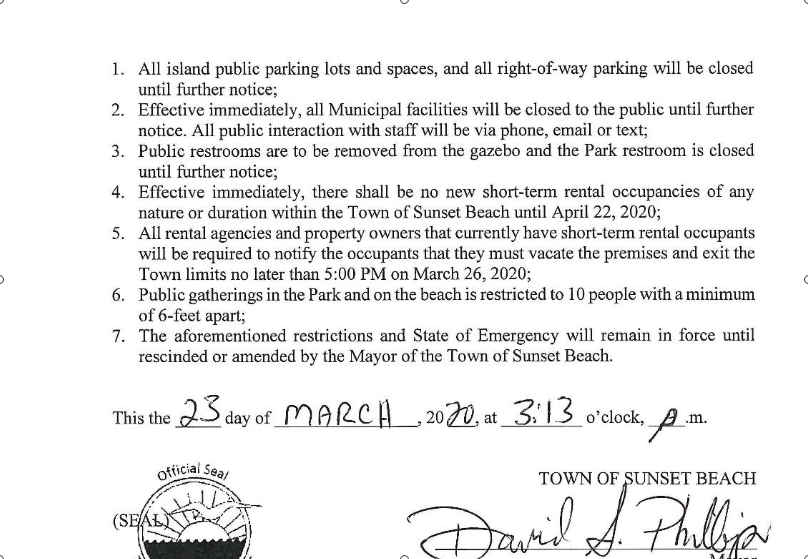 https://www.facebook.com/surfcityncgov/ Surf City has banned short term rentals -- vacation rentals -- indefinitely for now due to Covid-19 concerns. Current renters have been told to be gone by Wednesday the 25th.  Public beach parking and accesses are closed.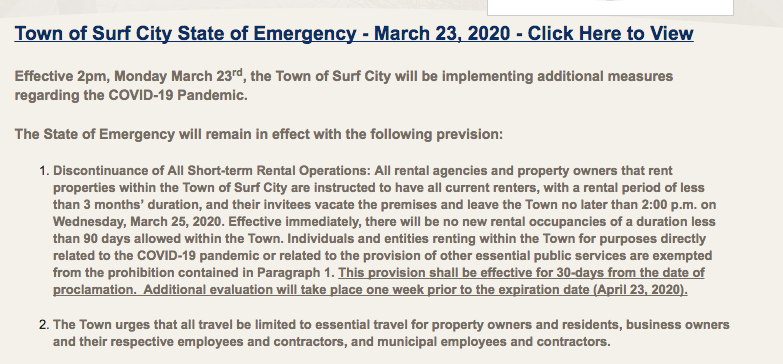 https://www.facebook.com/Town-of-Topsail-Beach-North-Carolina-138345019542554/ Beach parking is closed and vacation rentals are not allowed through April 22.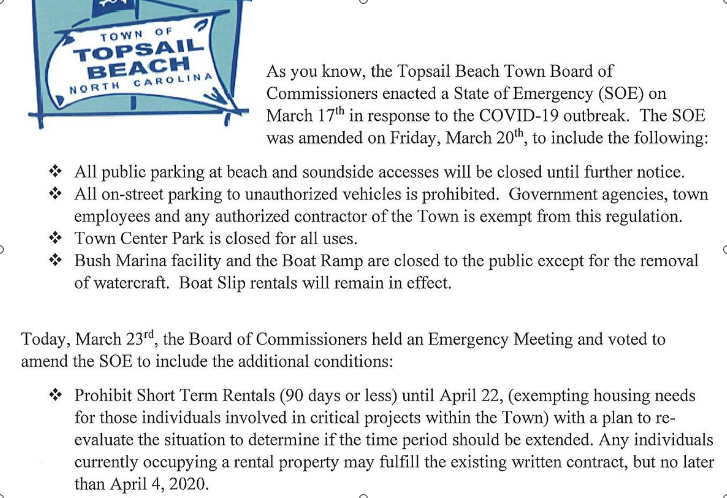 https://www.facebook.com/TownofWB/ Wrightsville beach closed their beaches across the board.
"Effective immediately, the oceanfront beach strand and soundside beaches of Wrightsville Beach have been closed to residents and visitors. All Town restroom facilities will be closed." 
This is the most extreme measure taken of any town. They also hid the comments on their facebook pages regarding their policy decisions :)