Oak Island Real Estate Bumps 10% Past Month 2020
Posted by Jay Seville on Wednesday, December 2, 2020 at 3:23:35 AM
By Jay Seville / December 2, 2020
Comment
Oak Island Homes for Sale Bump 10% in November 2020
Everybody this is Jay with the Wilmington-real-estate.com Team and real quick and I'll give you some head up going through an Oak Island real estate as we have a bump happening in real-time live. Literally in the last month and even maybe in the past 2 weeks there has been a 10%  bump in the home values for properties that are under 400,000.  Now I can speak to those because I've written three contracts in the last 2 weeks on properties and I'll show you what has happened with them. But my point is it's a frenzy of a market with some intense Market phenomenon going on, and this is to give you a clue of what it takes to win at Oak Island Real Estate. Here is a first example it was a condo at Oak Island Beach villa and that was listed for 290 . Comps were lower and we came higher and  I think there was like four offers on it and we still lost. But then it really got interesting because we were over here at another property and the comps were like 260 and we went up really, really higher to almost 300,000 and they still picked another contract that was better than our contract and we even had a due diligence fee, etcetera. Now even though the comps were 260 and my instincts told us we needed to be up at 300 the point is my instincts were dead on. Sometimes the realtor with the boots on the ground knows the market where it's at based on previous interactions, transactions, conversations and they're ahead of the comps you might say because they're in real time the market and ahead of the curve of the comps. Okay?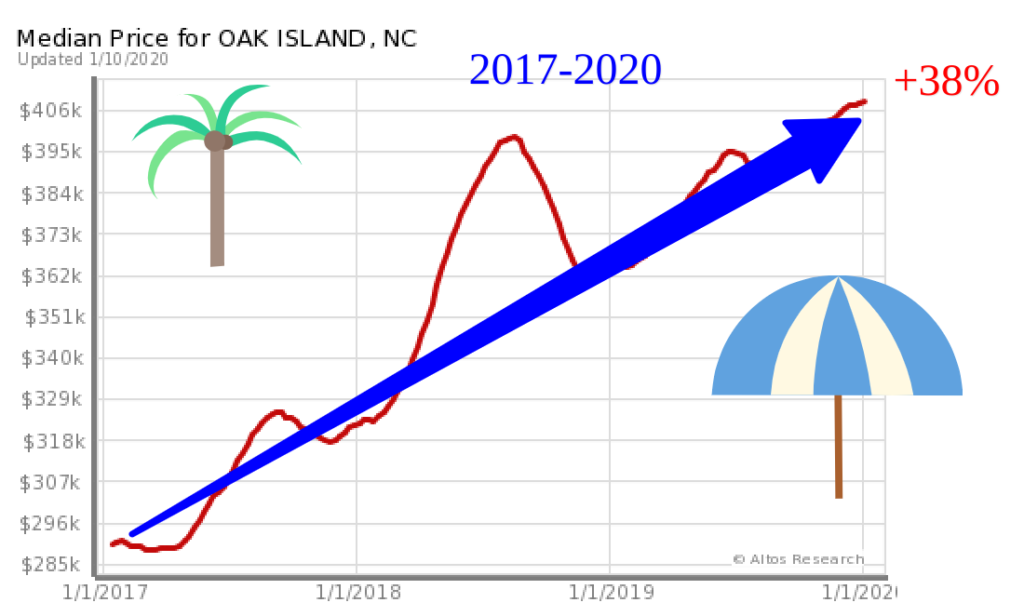 And then recently just a few days ago was over here at this other property little cottage in Oak Island and you had sales around 285 and we jumped on this knowing what I just learned from this, that the comps were 10% off. We went up 10% approximately and still lost this home for 319. So it was a crazy, crazy two-week experience with several different clients. Finally we got under contract here and sure enough that home is listed as a new construction home for what the true market value is today which is 10% over what the previous new construction solds home with that amount of square footage. I think this is about 1500 square feet. 
So Oak Island the big message I have for you is that the comps are old  if you're under 400,000 you need to take the comps and add 10% to win otherwise you will lose to multiple offers. And the second message is...well I've got three….to do this effectively you really need a bird dog realtor like me who knows what's going on and  is aggressive and can go do videos of the home while you're in another state and set you up to have confidence to buy. Often we need to make our offer on day Zero and get it off the market and then you can decide if you want the home or not. You may not even really want it. We can Terminate it 3 days later. you lose no money; there's no risk. But this is how you win at real estate in this kind of market. And then four...for the properties of over 400,000 um I'm not chiming in on those because each quartile of real estate has its own Market nuances and Trends, and sometimes they are all together like this, and sometimes this one's going up in the other one is going flat. So it really depends on what's going on there.
 Let me switch screens and show you a couple things. I believe I pulled up Oak Island here. Nope it's a little slow. So let me just swap over to Oak Island real quick. This shows you some Market data for Oaks Island. The challenge were having is the supply. You know it's gone from eight months of supply and now we're down to 3.6 month of supply. We have the homes for sale. Here we go, A few years ago we were at 340 now were at 204. This includes the entire spectrum of real estate in Oak Island. So in your specific niche let's say you're looking for a 3 bedroom  cottage under 450 that's active there may only be uh six homes that are interesting. or for example if you're looking under 300 there just may be 3 homes. So when a new one lists people jump on it right away. That's why you have the days on the market right here you see how things have really gone from July 53 days on the market down to 36.  So we've had like a 40% decrease in the days on market just since July. This is a recent phenomenon right here. I'm going to click and try to make this Flash, and it's really intense. It's like people have gotten past some covid maybe concerns or I don't know, but people are all in right now that's my main point.
Oak Island NC homes multiple offers and low inventory
The number of contracts is off the charts; you know we are like 840 homes that are under contract and compared to 550 3 years ago compared to just a year-and-a-half ago from 574 to 840. I mean that is like a 40% increase in the number of homes under contract. It's just a year and a half ago. What happened is people have discovered Oak Island. it's it's no longer a secret. It was really undervalued is the problem for years. Because it was sort of not that well known compared to Carolina beach and other beaches. But now it's discovered and now there's a ton of new construction. People are selling the Lots now for 120 these lots a few years ago cost 50; So the builders they're kicking themselves for not buying as many lots as they could have a few years ago but they're they're going for it. Um new listings... it's just sort of static here not keeping up with demand at all and here's your pricing. Um it's just gone up dramatically.  I did a really in detail analysis and for like properties over the last 3 years in values have gone up 31%.  Now that was before this recent 10% bump so I'm betting a lot of the home values are up 35% compared to 3 years ago. So I'm just chiming in on Oak Island here and um I do hope to hear from you when you are ready to see houses. And I will give you some more updated nuances of the market and strategies and stuff soon enough. You have a great day.