Oak Island Real Estate Shift -- higher days on market but prices hold steady!
Posted by Jay Seville on Wednesday, March 1, 2023 at 8:54 AM
By Jay Seville / March 1, 2023
Comment
Oak Island Real Estate Shift in the Market
This is Jay Seville of Ocean Views Real Estate, Inc in Leland NC.  Our brokerage is in the Cape Fear Association of Realtors. Our main website is Wilmington-real-estate.com. It has a really nice layout of the listings for various niches such as ocean front condos in Carolina Beach or oceanfronts you see right here Oak Island.  In Oak Island significant there was a major shift in the market. Back when I was showing property in the Spring it was brutal. The homes tended to be under contract in two to the three days . There were three to six contracts on all the homes, and you know fortunately my people won most of the time. I'm very good at this; usually when there's multiple offers I win three of four contracts so I'm just really in tune with different niches in real estate around SE NC.  If I'm working with someone I can tell something's going on in the market and you can exploit it and make the most of it. not many agents can negotiate contracts like that and and feel that opportunity for negotiating harder. And sometimes it has to do with being in a market all the time. For example I just closed a few months ago a second row home in Oak Island. It was listed for about $550,000 and we got it for $350,000.  I smelled blood in the water and we took advantage of it. It was really worth $450,000 so my clients were amazed!  They'll be able to rent it for $50,000 a year after the renovations. 
You see this is Oak Island for single family houses ,three bedroom two bath type of scenario and it shows you here that the days of Market was about 10 okay over here and then it went up to 14 so pretty minor little increase in showing right there from 10 to 14 days on Market. That is not that dramatic though.  But is that accurate for days on the market for Oak Island Real Estate? No it's not and I know because of boots on the ground experience. I have some homes that were under contract…you can see 3 days, another one was under contract in like 18 days, one day, two day, one day. Okay so that was the Spring, and in April and May you had crazy Market where things are just under contract right away.  Contrast that to homes that are under contract right now you have right here…let's see four days but 195, 68, 236, and 121 days. These are homes under contract in Oak Island right now. So we've gone from 4 days to months on the market so this data is faulty. Somehow they're not measuring it correctly. I know that the days on market for a lot of the homes now; it's not 14 days.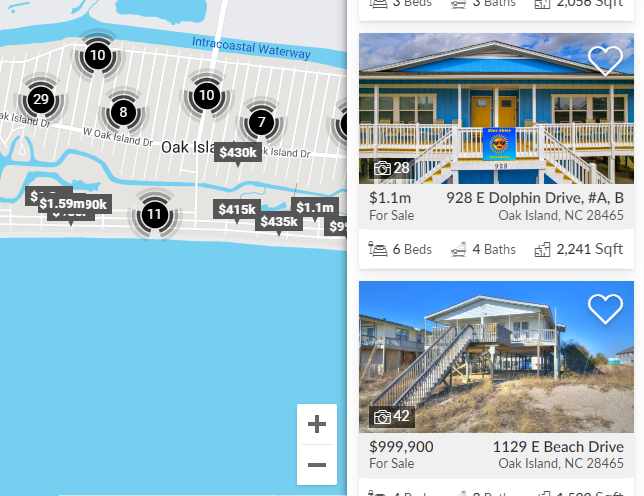 Oak Island Inventory Grows
What about the home values? Have they changed in Oak Island? The first sign of a crack in the market or a change is that you'll have higher days on the market (DOM) and an increase in inventory. Let's look at the supply here in Oak Island. You've got first…let me get rid of some of these Circle things here. So with Oak Island we do have we've gone from right here one month to almost 2 months of inventory. So that's actually a pretty big deal.  So we do have a big increase in the supply homes in Oak Island. Essentially they have doubled and I have another really good graphic on that. Let's see if I can find it here. Three bedroom homes have gone from there was 18 homes for sale back in the Spring 2022 and now there's 30 homes. So again that matches up with that other data is the months supply of homes has doubled.  Usually that means home values are going to go down. They're going to adjust; it's more competition and a bigger supply and stuff. But it doesn't always play out that way which brings me to the next graphic. 
Oak Island Prices Hold Steady
So let's look at the prices now. what I did you have to take light scenarios so I went back and took homes that were in this,  and I took homes that were in this little area here where it's on the northeast side and I took you know fairly modest 1500 square foot homes in the area because these have their own value compared to the other side. It's ideal for rentals because people can walk straight down to the beach here or golf cart ride to the beach. So they're great for vacation rentals,  and they have some more intrinsic value here compared to the other side of the island. So when I pull the numbers –I'm trying to keep them all in the same spot and let's see if I can highlight these– yet in April and may you have homes closing in the Northeast three bedrooms two baths… these were closing you know like 575 and you'll see here the same square footage they have 1526, 1536, 1617 square feet…now same square footage. And those have gone for $570,000 and $605,000. Now that that one going for $605,000 recently.  That is a little bit high because it had a .3 acres instead of 0.15 acres. So it was a double lot and as you can see it also really was a crip and clean and updated. And inside here's a better picture of the kitchen with some new tile and stuff along with newcabin ets and all that. So it's showing real well so if it didn't have that it would have been in $575,000 like these like these others from April and May. So my point is the home values have stayed steady in Oak Island and they haven't changed much yet since we have more inventory. But it is taking longer to sell. 
With other markets for example in Leland I think I pulled one up; you had homes taking you know 1, 3, 5, 4  and 2 Days in Leland back in the Spring. And now if you look at it we have 25, 16 and 85 days on market so it's like triple the days on market. So it's all playing out across the region. Every region has its own little timetable for the corrections that are going on, but the prices have not changed–at least for Inland homes. 
The ocean front homes are in a different category and they have changed in values. The Oak Island oceanfronts closed at $925,000–small cottages, and now there's been several that are listed for $775,000 and like $825,000 so you see a 5% correction. There may be a 15% correction underway and the same thing in Carolina Beach oceanfront condos. Because of the length of time we can make really low offers now. Some sellers will just say screw it I'll take it because they're tired of waiting. And that's how you sort of get the right price, and that's sort of how we fix the market and get it down to the more appropriate price. I I look forward to working with you soon!