Real Deal about Oak Island Homes and Pricing Trends -- Apples to Apples
Posted by Jay Seville on Tuesday, January 28, 2020 at 9:16:43 AM
By Jay Seville / January 28, 2020
Comment
Crazy Pricing Trends for Oak Island Real Estate Niches
So let's move on to Oak Island Real Estate. I will have a few extra key word stepped in there because I use these for articles all over the Internet. What is going on with the Oak Island real estate market? First let me skip away from the homepage to the Oak Island page. You have you know some of the oceanfront homes for sale for example because when you Google oceanfront homes for sale my website is 1 high ahead of realtor.com and ahead of Trulia, Etc. I think it's just behind Zillow, but with it as far as the independent Brokers I'm right there now with with Zillow. With Market data you often get more complicated than the numbers you see on the summary articles you read in Star News online or in news break app or at Zillow itself etcetera because you can have in any Market niches within that market which completely contradict the pricing Trends, Etc. that you're seeing in the market data. For example here you have Oak Island real estate prices going up 38% in the last three years which is just insane but is it really that simple or is it more nuanced than that? What are the apples to apples versus everything under one medium price essentially getting apples oranges. So that's what I broke down here for you. Once in awhile I do this; it's a little bit time consuming and that's why I do not do it often.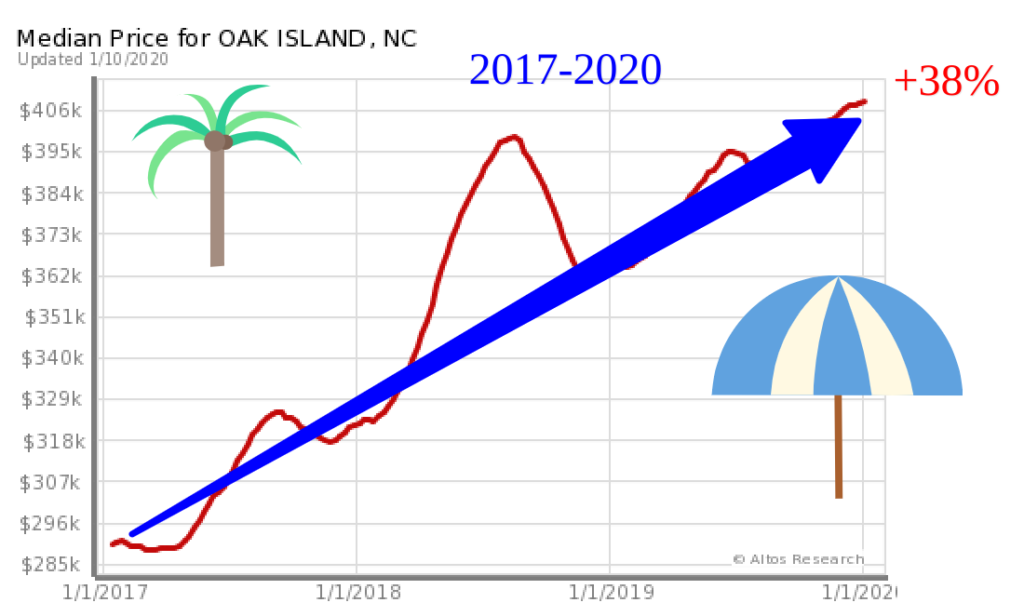 But here we go. The other interesting thing about Oak Island is we've had this crazy surreal new construction boom. When I first got here in 2012 I was showing lots of property in Carolina Beach real estate and Ocean fronts, and we had a big boom there from like 2014 and 2016 and then it slowed down. They just started running out of places to build; in Carolina Beach is much smaller than Oak Island. But while I was doing that the prices were going at appreciating more and more I was telling people oak island is where the value is. You're getting the same homes are for $150,000 less Etc. And out of necessity the market itself shifted a lot of people there. I had no influence on it because I'm one person and I'm very irrelevant. The market forces at the micro and macro-level Rule everything; Realtors have no control over this in spite of what the perception might be out there. So since 2012 when there was no new construction there has been a two thousand three hundred percent increase in new construction, and a lot of it is from 2016 is when it just exploded off the charts right here. And maybe it's starting to go down and Plateau are or decrease, and maybe it'll just flatten from here for a while. But it it's an insane set of Statistics. The kind of Statistics that are eye catching and unreal to look at when you're a real estate blogger like me for Oak Island homes for sale. So let's go.
Breaking down the Niches for Oak Island NC Homes
I took a homes from 2016 and I compared them to home sold in 2019 and 2019 so what I did I took one area. Let me show you the map here; I took a little section of Oak Island-- a rectangle off of Middleton or crossing middleton in the central area there because we want apples to apples. We want the same homes in the same area that are the same style and the same square footage Etc. So here I am from 4th Street Northwest across to 10th Street Northeast in between yacht and East Oakland Island drive. All rights and then what I did I made sure that these were older homes so these are built in the eighties.  I'm looking for my closing date scenarios so they sounds right here, these three were built in the 80s and 70s and they are the same size: 1280, 1248, 1301. These three homes and they're ground level homes okay, and then I found homes that closed recently in last year like September 19th, February 19th, October 19th, and these homes are the exact same size 1390, 1264, 1245, and they are also built in the 80s: 83, 85, 87--also ground floor levels and what did I find what is the pricing trends there. So the same identical home, same size older homes, ground level in the same location. those I seem to have lost my, here we go my note here those let me see if I can get those prices went out there last year was 229,000 for those little cottages on the ground, and three years ago the average sold price was 150,000. That's a 46% increase.
So what are the challenges you have here? The the least expensive homes, I'll call it the lower middle quartile, those are increased in price a whole bunch So these people that could have afforded the $175,000 homes now they've been priced out of that market and they're going to either have to increase their price range or they're going to have to move further out in the country or get a smaller home and that that's sort of a sad situation when you think about it. What happened to go with new construction because when we look at that crazy chart over here of homes in since 2016 there's probably been an increase of you know like 18 hundred percent of new construction homes the number of new construction homes just skyrocketed here. And pick out those statistics all right here these are homes built in 2016 1400 square feet, 1400 square feet, of 1422 square feet and those are right here closing around 250,000. Hop over here to 2019 same size homes almost all in the 1400 on pilings, but these homes are on pilings, these homes are on pilings and you get a lot of these homes closing for 350 and 330. What are the specs of it the new constructions in 2017 and 16 on pilings were closing for 251,000 whereas in 2019 they were closing for $356,000. And that represents a 38% increase in the cost of new construction homes currently versus 3 years ago.
Market Data in Depth Oak Island NC
So I remember selling some of these home several years ago I really forgot the first name and probably should not say the last name, and I I tell them you bought just in the nick of time because the home they bought is worth a lot more now. Last year I sold a second row Oak Island home for 370 and she's using it as a vacation rental, and already it's worth at least 425 pretty pretty weird. So for folks that are waiting and waiting to buy if you're out of town you might consider buying now and renting it out; we have high rents. This way you don't get priced out of the market and do I think it's going to keep going up, not like that not necessarily. In fact I personally I sort of wish it would flatten out a bit and and and just be stable and just go up a couple percentage year. But who am I? I have no say in the market Etc. I just know from working with a lot of folks that it's getting harder and harder to afford the home you want in Oak Island. And the new construction boom there are still a zillion houses which are not well maintained in Oak Island meaning there's Untold number of lots for Builders to build new homes on if they can buy out these old properties and take something not very attractive and put something shiny and new on it.
Preservation Questions for Oak Island NC
That does bother a lot of folks that these new homes are being built. At the same time some people feel that I'd rather look at a brand new home than one that's dilapidated, however I think we all agree on we do not want to change the feel of Oak Island as far as the downtown retail sector and all these Charming, independent, eclectic businesses that have been around for a while. We don't... we want to keep them all independent and unique to our local area, and we also want to keep our ocean views and we don't want giant mansions blocking the views for other people who have been around a long time. Hopefully a lot of these Cottage is the oceanfront cottages at Oak Island will stick around and be renovated and maintained. And in fact that brings up an interesting subject: should there be zoning or regulations where homes built before 1970 have to maintain their footprint; they cannot be added onto. Then rather they'll just have to be renovated and stay as they are to preserve the nature and the look of oh, that's a huge topic and I have not really even consider that. That was spontaneous and came to my mind as this video was going so I'm not pushing that or not pushing it. I'm just saying that's a legitimate conversation to have. Preservation, normally you think of preservation as being a historic district issue downtown Wilmington. Well what about Beach preservation? What about all these cottages on North Topsail Beach, Surf City, Carolina beach, Oak Island, Holden Beach? I work all of these beaches by the way; I close deals on all of these beaches each year and that's an interesting subject to think about it whether these localities would want to have something sort of them in place to maintain their Cottages and the look of their Beach to a large degree. And I'll just leave it at that. I'm going to do another video on that actually. So there you go in-depth that's what's going on and I look forward to hearing from you whether you want to buy or sell a home bye bye
Here are
New Homes in Oak Island