Where Do Homes Sell Fastest in Arlington Virginia Real Estate and Northern Virginia?
Posted by Jay Seville on Tuesday, August 17, 2010 at 1:38:13 AM
By Jay Seville / August 17, 2010
Comment
Comparing Days on Market Data for Arlington Virginia Zip Codes
Often people contact me to find a home in 
Arlington Virginia real estate
.  Most tend to be focused on school districts or proximity to the orange line metro corridor.  Frequently a question I get is about resale value and how well the homes in that area can be sold later–i.e. how long it will take to sell.  Let's look at that issue taking the average days on market for the past 4 months for the Arlington Virginia homes for sale. 
House flipping loans
usually come from private lenders, although traditional banks might be an option.
Where Do Homes Sell Most Quickly in Arlington Real Estate?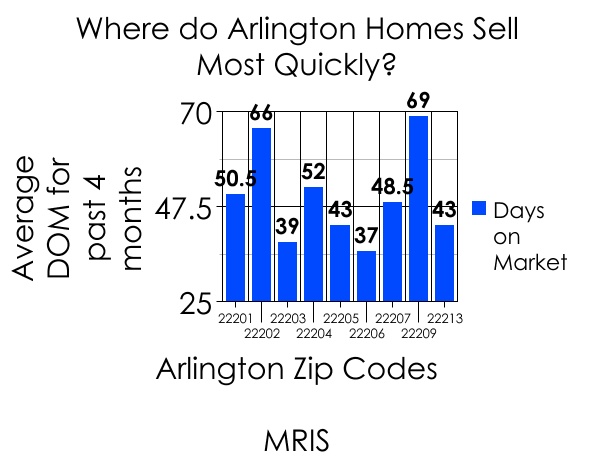 Comparing How Fast Homes Sell in Arlington Real Estate Listings
While this is not a sceintific analysis, it legit in that it took 4 months of sales to determine numbers.  It would be better go YTD — year to date — and use 2009 and 2010 to determine numbers but I don't have all day to do this.
It takes decidedly longer to sell a home in Rosslyn (22209 of Alington VA) and Crystal City (22202)than the rest of Arlington County.  Both Rosslyn and Crystal City are dominated by condos and cement and corporate buildings.  It takes 28% longer to sell a home in Rosslyn than Clarendon.
The zip codes with the lowest days on market (DOM) are dominated by houses 22203,22213,22205 have the lower DOM.  22206 is dominated strongly by the Fairlington community of townhouses that are classic starter homes for new families in the area.  For example here are the real estate listings for 22205.
Northern Virginia DOM Versus Arlington, etc.
Conclusions on Northern Virginia DOM Trends
By far and away the winner is 
Prince William County real estate and Manassas
.  One reason might be is that is where investors have flocked to below market value homes for sale to flip and clean up for rentals.  It used to be that the highest demand and lowest dom was close in Clarendon and Rosslyn and Old Town Alexandria.  Now the suburbs rule and further out where prices are lower in Woodbridge and Manassas.  Interesting.