Carolina Beach condos for sale | Oceanfront Condos
LISTINGS AT BOTTOM OF THE PAGE
LISTINGS AT BOTTOM OF THE PAGE -- scroll to skip FYI PRICES STARTED DROPPING! My video goes into an 8% price drop past 6 months. Give it a watch! Hey everyone. If you're looking for Carolina Beach condos join the club. Some basics on Carolina Beach is that it is an island south of Wilmington and locals call it pleasure island. It experienced massive development since 2012 with a new boardwalk and $15,000,000 hotel adjoining it around 2015. The boardwalk with many oceanfront condos within walking distance is top notch with showers and many built in seating sections, etc. It is wide with ramps and all. In fact the history of the Carolina Beach boardwalk is amazing. It was built in 1925, and was wiped out by severe weather at least once. Excluding the recent redo around 2015 the previous small boardwalk was from 1989. Carolina Beach is very busy and dense. You might call it Myrtle Beach's step brother of sorts. There are a bunchy of boutique condos with 3 or 4 levels across couple mile of beach. Unlike Myrtle Beach and North Myrtle there are just a few high rises. With its affordability and location and boardwalk and theme park rides it has become a go to vacation spot for families within 250 miles.
How's the market in Carolina Beach condo prices?
Prices have gone up in the condo market on Pleasure Island 26% from 2016-2019 and inventory is down almost 50%. A lot of units I sold for 145,000 a few years ago now cost 185,000. I think there will be another 5 years of appreciation; the prices are still dramatically lower for these oceanfront condos than the peak. For example a 280,000 2/2 used to close for 425,000. You get the idea. Please watch the video on making money on oceanfront vacation rentals. The Carolina Beach market offers higher profits than other beaches for this niche of investment property. One reason is very high demand with the boardwalk, rides, etc. And the HOA fees here are quite low compared to other beaches so it's very investor friendly! It is also worth noting that during the boom from 2012-2021 that new construction condos also skyrocketed with some being built for the first time in years....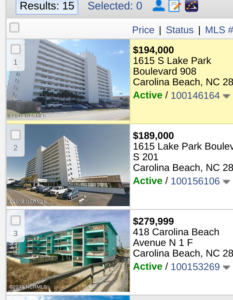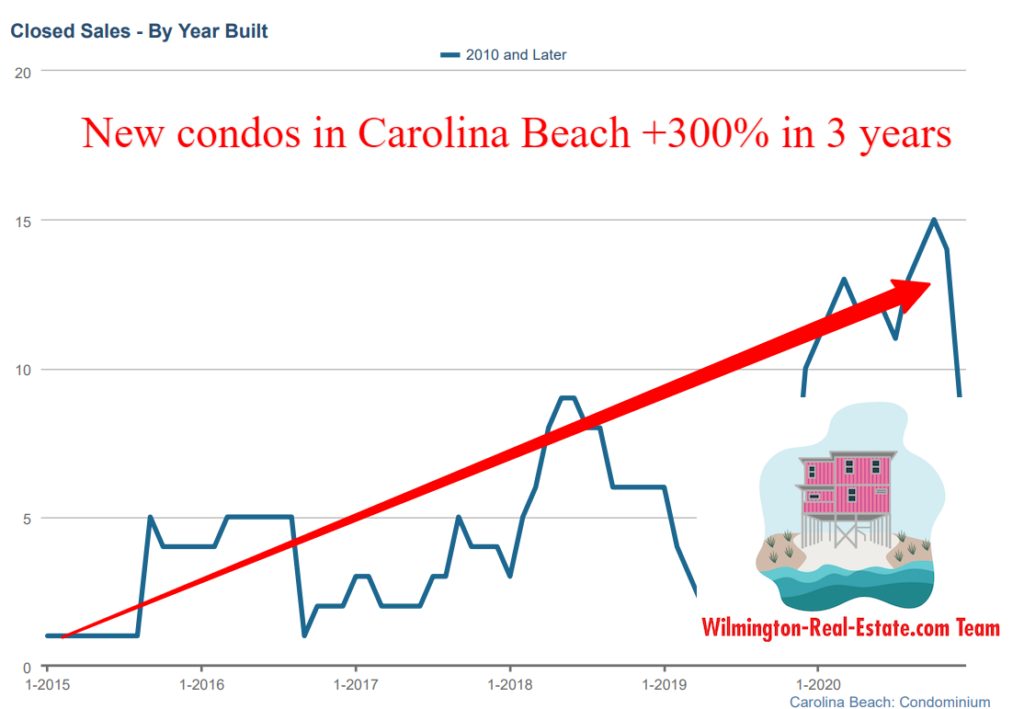 Scroll to bottom for listings.
Vacation Rental Income for Carolina Beach condos
In the past few years rents have been going up. that is what you would expect as prices have been rising dramatically and the ratios of rent to prices is important for a healthy real estate market. Back in 2015 one could rent a 2/2 -- a 2 bedroom 2 bath -- oceanfront condo for $36,000 if the building had a pool. Now I'm seeing these units gross $42,000 if managed well. And that subject of property management and property managers for vacation rentals is its own messy topic that I have published many videos and articles about. Generally property managers are getting their investors much less rental income for their condos than individual owners and there are several reasons for that. You can message me if you want the tutorials on this subject. The ideal rental has great views, is pottery barn or crate and barrel inside so that it "pops" and has a swimming pool. if you allow pets you can another 10% easy of rental income for Carolina Beach condos.
| | | | |
| --- | --- | --- | --- |
| | | Cabana de Mar condo | |
| | Sand Fiddler Point condo | | Sands IV condo |
| | Sea Dunes condo | | The Boardwalk at Carolina Beach |
Active Carolina Beach condos for sale oceanfronts
This is a summary of all active Carolina Beach condos for sale including foreclosures. They are very near Kure Beach. Some of the more popular or noticeable condos in the area are Atlantic Towers, Pelican Watch, Paradise Towers, Sand Pebbles Condominium, Winds V, Sea Colony & Harbor Oaks. there used to be always about 15 oceanfronts for sale and now there are usually just 5 or so. so it is a tough market for buyers.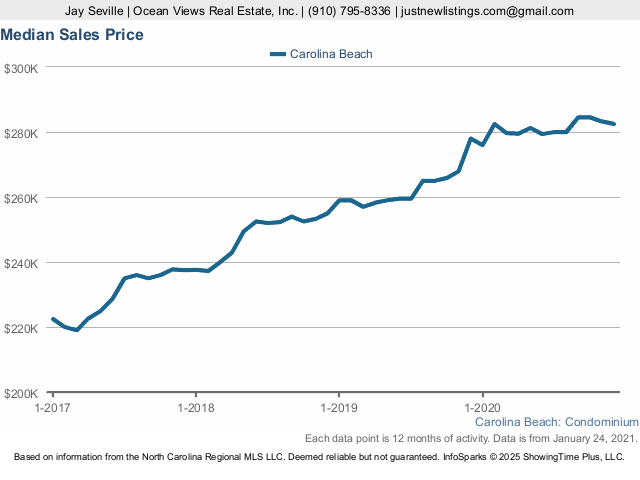 Active Carolina Beach Real Estate MLS Listings and Foreclosures
Listings
December 4, 2023
View Carolina Beach Niches!