Hoggard High School Homes for Sale in Wilmington NC
2022 & 2023 update LISTINGS DOWN BELOW SCROLL!  --- Prices went up about 30% past 2 years and for a long stretch most homes were under contract within 0-3 days. It was brutal.  New listings are tight. Still many go under contract quickly.   However now instead of 6 contracts there is 1-2 offers.  And it is common for homes to sit a couple of weeks now before going under contract -- thank goodness! In every Wilmington real estate market (any market in the country) you are going to have your most sought after school district(s). In our area the most sought after homes for sale are in the Hoggard High School district.  With 19% appreciation the past 3 years in the midst of hurricanes...prices should stay firm and continuing rising 5% or so is what I'm thinking in 2020. Several very expensive neighborhoods are found in the school district such as Seaforth, Wrightsville Beach homes and  Shore Acres.
Quick facts about Hoggard High school homes
The school has 1800-1900 students and was named after John T. Hoggard who served as Chairman of the Board of Education. It is consistently boasts a winning football team--the Vikings--with a state championship in 2009. At the hyperlocal level it's considered the school with the most advance placement courses and highest graduate college attendance rate. So it is a sought after school district in Wilmington North Carolina for buyers looking for
Hoggard high school homes for sale
in Wilmington NC.
.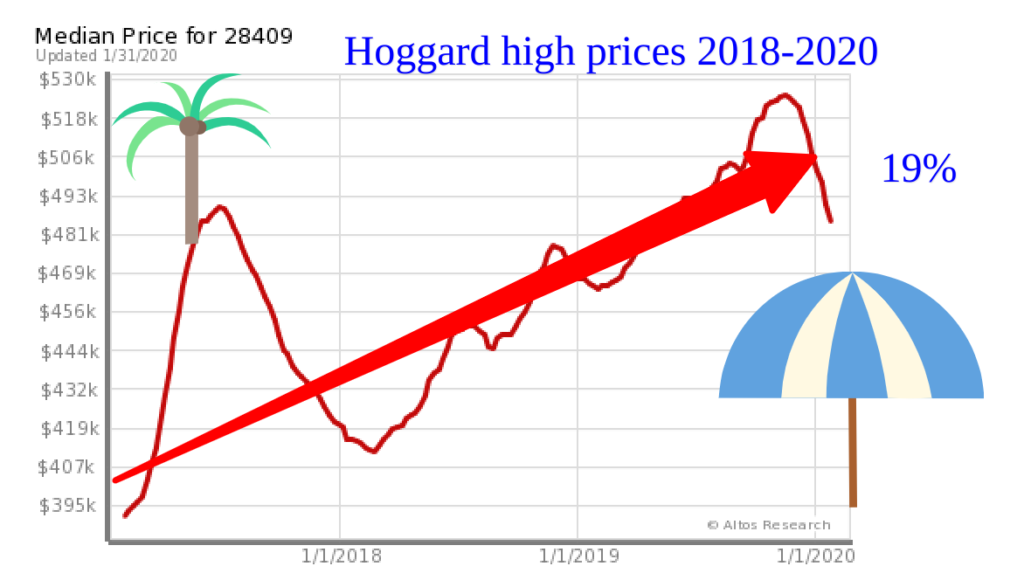 .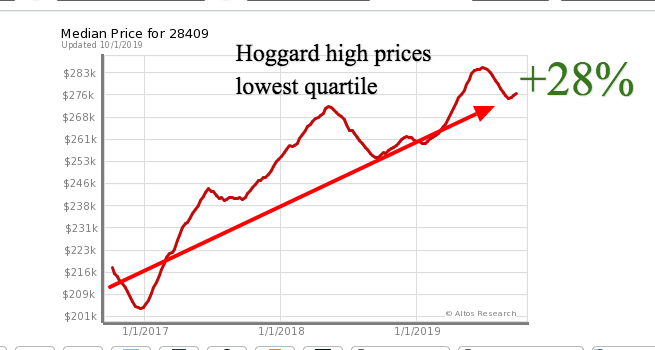 More thoughts on Hoggard houses and prices
So the prices in Hoggard High school District have gone up a lot the last six years... I remember working with this single mom with a girl in second or third grade. She wanted to get into the hoggard high school District early.  Here thinking ahead was a great decision. I think we got home for around 200,000 and it was the most she could afford. Thats home today as you can see from the chart will be 265,000. She would not have been able to afford the school district of her choice has she waited any longer. The parallel to this situation is how a location is critical for buyers around the country  that are interested in coastal North Carolina and the Wilmington area. For example you used if you get an inexpensive home for $175,000 in Oak Island. Now a single home costs $250,000. I have seen people right before my eyes lose the location they wanted because the waited one to two years too long. If the Hoggard district means a lot to you for a new house call me right away, and look at the listings down below.
So some other benefits of living in the hoggard district are that you are close to everything; you're in central Wilmington so get to a zillion retail outlets is very convenient. You are also close to Wrightsville Beach. Almost all homes are 10 to 20 minutes away. And the same goes to downtown Wilmington with the Riverwalk and downtown Wilmington; you are just 15 minutes away. If Carolina Beach is your style because you want Britts donuts or carnival rides in the Summer it is just 20 minutes away.
I forgot to mention that another big plus for the area is Hugh MacRae Park.  If your kid is in sports you definitely want to live near this park as a lot of ball games go down here. The park is huge and there is new waterpark area included that is totally refreshing in the Summer!  The new playground is pretty high end with a lot of new stuff. There are perhaps 3 baseball fields, walking trails, etc.  One of the best parks I've been to in several states.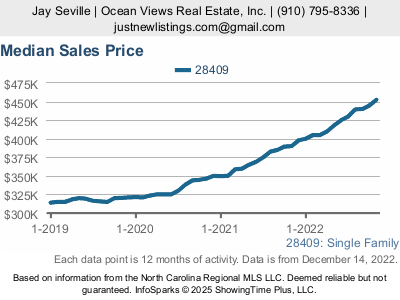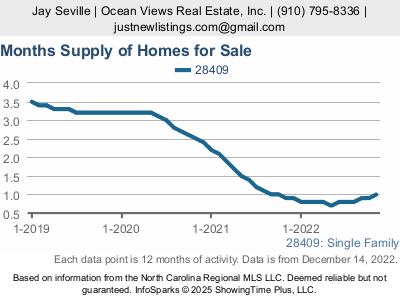 Summary of the current Hoggard High School Homes
Listings
September 24, 2023