North Carolina Oceanfront homes for sale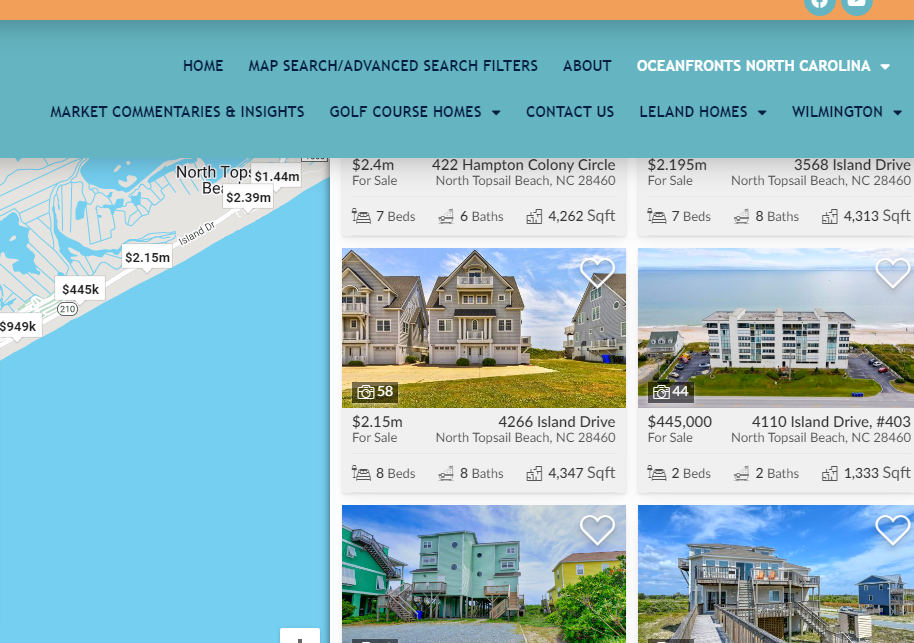 This is a summary of oceanfront homes for sale in NC--scroll to the bottom ASAP. These include beach homes near Wilmington including Wrightsville Beach, Carolina and Kure Beach. It also includes a lot of Wilmington waterfront homes in the area such as Masonboro Sound, Porters Neck Plantation and Landfall.
2022 update for beach front homes in North Carolina
Prices past year are up 30%. the rental income for beach properties also shot up 30% with the highest rents in the history of vacation rentals. It really caught a lot of property managers off guard and they rented their homes at the previous year's rental rates so most 2nd home owners lost $10,000s :( I had sent my "list" an email saying raise your rents 25% now as your property manager won't....Couple of past clients got back with me later saying thank you so much. With the higher interest rates making and 2nd home penalties in place such as points with the fed and fannie mae...prices are probably maxed out and buyers are dropping out of the game as it costs much more each month to pay a jumbo mortgage. Pices might come down or correct 10% in the next year.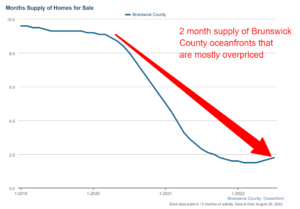 Variety is the spice of life and that applies to our many beach properties for sale. Each North Carolina beach one has its own traits, traffic, retail, culture and socioeconomic norms. Also to take into account is the water itself; is it clear or murky? How deep or wide are the beaches? Some beaches are pretty shallow like Carolina Beach or North Topsail. Perhaps the deepest beach is Wrightsville Beach. It's no coincidence that is also the most expensive in Southeast North Carolina. I call it a "white collar" beach. Of course most beaches are regularly "renourished." Probably about every 4 years a beach gets a delivery from the federal sandman :) if you know what I mean. Actually it's a combo of players involved and it's often a debate involving different levels of the government.
Non rebuildable lots and vegetation line issues for Oceanfronts CAMA
One of the main variables in looking for ocean front homes has to do with the lot itself in relation to the vegetation line and dune structure. There are CAMA guidelines for rebuildability that determine if one can build a property on a lot when it comes to oceanfront homes for sale in NC. For example one may only be allowed to build a beach cottage 20 feet back from the vegetation line which is usually in the sand dune in front of the home. However with hurricanes dunes and vegetation lines can be wiped out for years until they are reconstructed and new vegetation lines are formed. So the homes are in constant flux of what status they have-- buildable versus non rebuildable. Some beaches have more widespread vegetation line issues and non rebuildable lots than other beaches...namely Surf City and the Topsail Beaches. However when you dive deeper into it you see that whether a lot if rebuildable is not necessarily a big deal in practical terms when you think it through. I'll have a video on that subject soon. Reach out to me for the explanation.... The bottom line is that unless your home is completely destroyed by a hurricane, you can repair it so long as the repairs are not 50% of the value of the physical structure. For that to occur it would be a category 4 or 5 hurricane probably. But the irony is that if a cat 4 or 5 hurricane comes then most of the currently rebuildable lots will become non-rebuildable because they will lose their vegetation lines. The point is that it is reasonable to buy homes on non-rebuildable lots.
Oceanfront Prices in Brunswick County 2022
So oceanfronts in Brunswick County including Oak Island, Holden Beach and Ocean Isle beach appreciated 37% from 2017-2020 . However non-oceanfront homes appreciated 22% in that time period. So there was a higher rate of appreciation for beach front homes. Probably this held up for the rest of North Carolina. New update for you....In 2021 prices jumped 30%. It was surreal no doubt. I saw buyers get priced out the market and walk away from buying their beach home. Many of them had been kicking the tires for years, and had plenty of opportunities to buy at a much lower price for a beachfront home. And the homes values bumped another 16-20% in 2022 as well.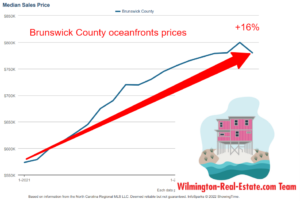 Oceanfronts in North Carolina
October 1, 2023