North Topsail Beach oceanfront homes condos
North Topsail beach
oceanfront homes for sale is a unique beach -aren't they all!--with more space between much of the homes than other beaches.  It has far fewer 2nd row homes as well due to the geography.  A few of the condos on the island include St. Moritz, St Regis & Villa Capriani.  The latter 2 are condotels that are like resorts.  Almost 100% used as vacation rentals.  More on their nuances and HOA fees later.  The beach is very undeveloped in terms of retail space and that is one of the main reasons buyers love it.  It is much less "busy" here compared to other beaches, and there is much more space between most of the homes.  On the north end of the island there are major erosion issue though and you need a realtor that can guide you in all these hyperlocal matters. Here are previous homes for sale including condos.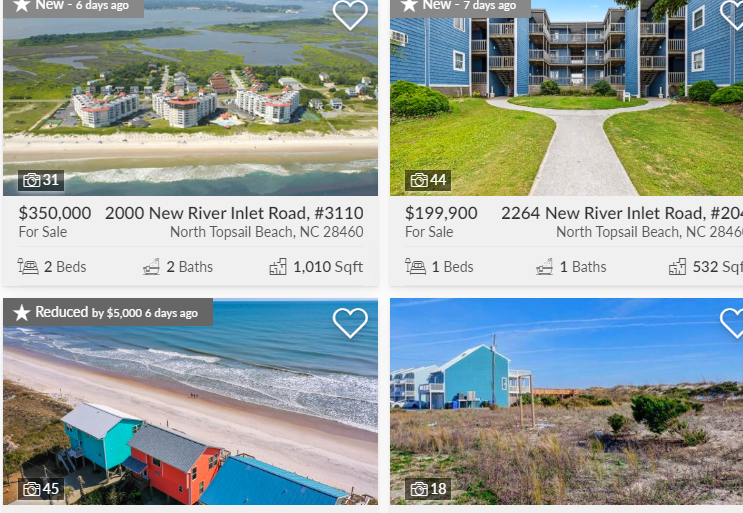 Market Data for North  Topsail Oceanfront homes 2021
As you can see in recent years home values for the oceanfront niche are up 20% for example.  The increases in home values are also strong for the
second row homes in North Topsail Beach
.  If one cannot afford oceanfront often there is great value on the
second row beach homes in North Carolina
.  The rental income is excellent here. My theory is that the people with money from the northeast such as Fairfax, VA would much rather drive to North Topsail and stop versus driving another 1 and a half to
Oak Island NC
for example.
These stats are garbage.  Just a 3 bedroom 2 bath home costs $900,000 now on this beach.
More Basics About NTB
NTB is a small coastal town located on the eastern coast of North Carolina. Here are some key points to consider:
Location: North Topsail Beach is located on the northern end of Topsail Island, approximately 30 miles northeast of Wilmington. It is a small town with a population of around 1,000 people, making it a peaceful and quiet place to live or vacation.
Beaches: The town of North Topsail Beach is famous for its beautiful, wide, sandy beaches. The beaches are open to the public and offer plenty of space to swim, sunbathe, and enjoy water sports like kayaking and paddleboarding.
Attractions: North Topsail Beach is primarily a residential community, with a focus on outdoor activities and relaxation. However, the town has several popular attractions nearby, including the Karen Beasley Sea Turtle Rescue and Rehabilitation Center, which is located on the island and is dedicated to the protection and conservation of sea turtles.
Real Estate: North Topsail Beach has a strong real estate market, with a variety of properties available for sale or rent. Properties range from small condos and townhomes to large oceanfront homes, and there are opportunities for both year-round residents and vacation home buyers.
Community: North Topsail Beach is a tight-knit community with a friendly and welcoming atmosphere. The town has several community events throughout the year, including a Christmas parade, a farmer's market, and a Fourth of July celebration.
Fishing: North Topsail Beach is known for its excellent fishing opportunities, with several public fishing piers and charter fishing services available. The town also hosts several fishing tournaments throughout the year, including the annual Topsail Island Surf & Pier Fishing Challenge.
Overall, North Topsail Beach is a great place to live or visit, with beautiful beaches, a friendly community, and plenty of opportunities for outdoor recreation and relaxation.
North Topsail Beach real estate listings below
Listings
September 24, 2023