Surf City Oceanfront homes for sale | foreclosures
This is a summary of
Surf City oceanfront homes
for sale in North Carolina. It includes foreclosures and short sales.  More content and market data will be place here later.  For now see the real estate listings below.
The new Surf City Bridge has been a blessing to the town that has some very modern features that make it much nicer than most bridges to Oceanfront home in the region it was about 60 million dollars and it has a seven and a half foot bike path and a 10ft wide multi-use path this is so practical during our hot season and provides a huge boost of safety and functionality for people that are driving biking running Etc I wouldn't be surprised if you could sneak a golf cart up The multi-use Path but I'm sure it's against the rules not so much the bottom line is Surf City rocks and you should definitely consider it as a beach for Real Estate among the others that has its own feel and is somewhat eclectic like most of the beaches around here it's practically empty 8 months a year.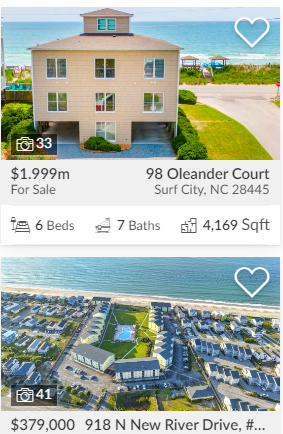 The main issue that Surf City Homes have that are right on the beach is that a lot of the lots are classified as non-rebuildable. I will do a video about that soon and explain the positives and negatives of buying a "non rebuildable" lot. here's an example of a home I sold a few years ago for $439,000 or so and now it's worth 550,000 easy. it grosses $54,000 a year as it has a 4th bedroom but during severe weather the water comes all the way up to the stairs of the house as you can see from the photo.
So here is an update on Surf City homes for sale.  Back in august 2020 I sold the last beach front home under $500,000 for a single family house.  Literally in April 2021 the same house with list for $700,000 as we had a huge bump in home values over the fall and especially since January 2021.  My theory is that people took money out of the stock market to "park" into real estate and our beach was an affordable place to do so compared to beaches around the country.
Update 2022 Surf City, NC real estate market
So let me give another update now that we entered the 2022 year. That same home sells for $900,000 now in 2022.  I think values will go down 10% though now that we have high interest rates and jumbo loans are no more due to 6.5% rates.  Tons of buyers dropped out of the market as cash flow does not work now.
Surf City Oceanfronts & Condos & Townhouses