Second Row Homes for Sale Oak Island Beach NC 2nd
This is a summary of 2nd row homes for sale in Oak Island, NC.  It includes foreclosures and short sales. However it's not the real MLS so be sure to contact me for comprehensive list of second row homes on any beach.  For many buyers there is better value on the second row. For the same price you get an extra 300 square feet that is renovated compared to an
Oak Island oceanfront
homes 30 feet away.  There can be excellent rental income too for these homes in Oak Island or any other beach for that matter.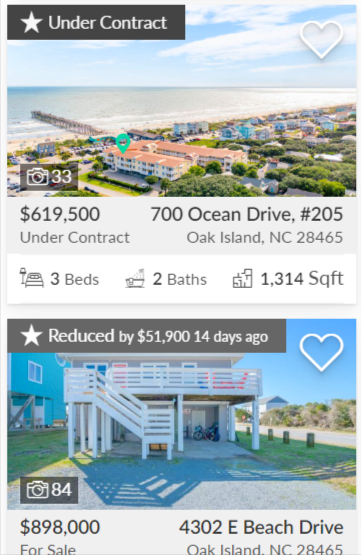 2-22 Market Update on Oak Island vacation rental income
The annual rental income for vacation rentals at OKI used to be $10,000/room. Then it bumped to 15 and now $17,000 per room annually.  If the home has a pool it goes up to 20K.  For much of 2021 there was big policy debate regarding a sand tax for the island. Some new city council members ran on not slamming the front rows with higher taxes compared to the rest of Oak Island.  One of my favorite clients of all time, Michelle, got her home with 4 bedrooms and 2 baths -- the classic H shape floor plan at the beach -- for $360,000 back in 2020.  It would list for 799 now.
Summary of 2nd row Oak Island Beach homes
$1,156,250
Med. List Price