Tiny Beach House for sale NC
This is a summary of tiny beach houses for sale in North Carolina that includes foreclosures and short sales. These tiny beach houses are often referred to as "Cottages" Carolina Beach homes locally in fact they are essentially a synonym and because tiny houses are a trend in the United States-- somewhat of a fad. It is showing out in the searches for North Carolina oceanfront homes for sale. So what makes a home a tiny house well that's a bit subjective as well and varies from person to person I would say a tiny house is comprised of a home with 1200 square feet or less that is on the beach of North Carolina. Usually these homes are older homes from the 1950s 60s and 70s ,and they are referred to as Beach cottages. They are Rife with charm and retro and they can be downright ugly or downright Charming depending on when they were updated and renovated. Okay I admit it; these homes are supposed to be 800 sq ft or less. However those are very rare. But there is a regular supply of beach front or ocean view or second row beach homes under 1000 square feet.
Also Myrtle Beach tiny houses have been added to the website! Here's a picture of them: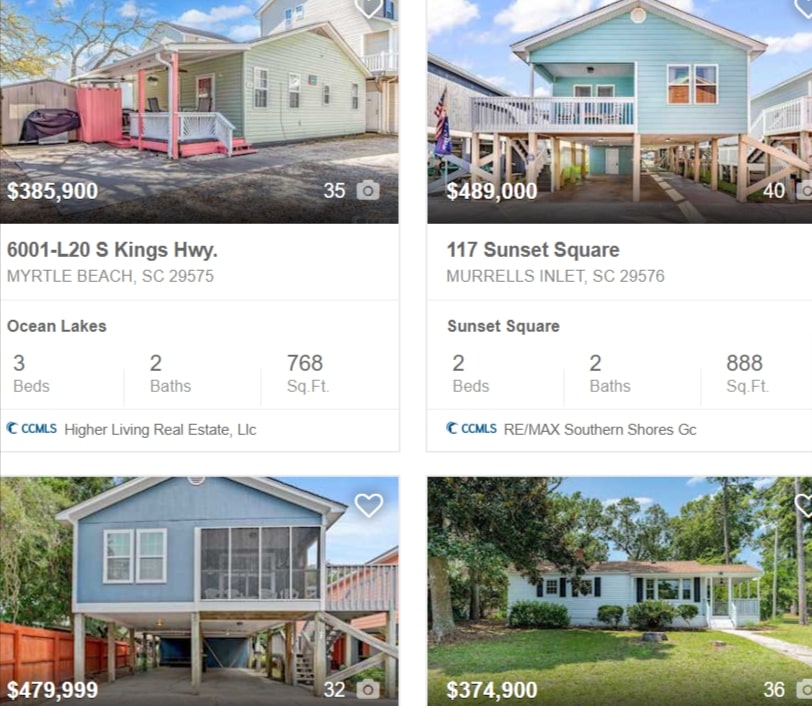 Tiny Houses are Resilient on the Beach -- Hurricanes!
One thing's for sure these tiny beach houses are sturdy; most of them have weathered a number of hurricanes. Well they tend to be solid as a rock compared to homes that were built in the 80s and 90s and early 2000s. Now however new beach homes have very high standards of construction and are very fortified and do have their advantages compared to homes built in the previous 30 years. There is a big Romanticism for these tiny beach houses and one of the practicalities of them is they are easy to clean because the square footage is so small and therefore the costs are lower than larger houses.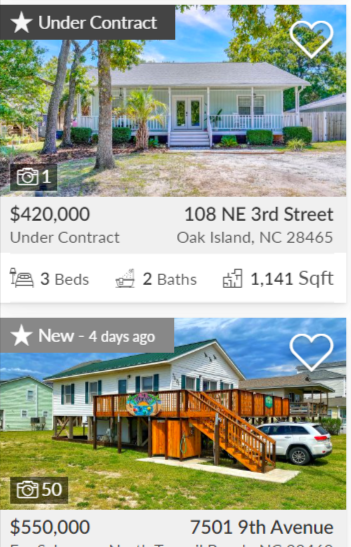 Rental Income for a tiny house & Active homes for sale
These tiny houses rent like hotcakes because people are enamored with them for vacation rental purposes and income. If you would like to know how to get the most out of a vacation rental and make money off of it while I have a lot of material on that that I will be putting on my blog soon. A good rule of thumb is that these oceanfront cottages will get $20,000 per room as a north carolina vacation rental that is oceanfront. [let me udpate that in 2023 -- the beach homes get $25,000 per room. They have appreciate much during the 2017-2020 window per the chart below showing Surf City oceanfronts and Topsail Beach oceanfronts along with Oak Island & Holden Beach oceanfront tiny houses aka cottages. Demand for this niche continues to grow as soon by the wave of new websites that rank for the keywords....