Waterfront homes for sale North Carolina
Waterfront homes for sale in North Carolina are in high demand. Often they are 2nd homes or vacation rentals used for cash flow and occasional personal use. For perhaps 60% of the purchases though they are a final home -- a retirement home and living out of a long term goal :) So working with boaters all the time I've developed the instincts to be protective and cynical buyer agent for you guys. How deep is the water? Low tide depth? Flood insurance? AE versus VE flood zone? Are flood maps about to change? What size boats do the neighbors have or what piers do the neighbors have? Boat lifts and docks? Often we find out a lot of dirty details by speaking with neighbors for example. These creeks and rivers often have nuances of how to navigate out to the deep water homes for sale in North Carolina. The waterfront lots for sale used to cost $250,000, but now in Wilmington or Hampstead can be $600,000.
Nowadays the ICW front homes in SE NC are usually $1,200,000+ so it's a challenge. Few years ago you could get them for 800,000.... Whereas you can get solid waterfront home for $400,000 in the New Bern and Orientel areas...the same homes are much more expensive in Brunswick County such as Oak Island or in Hampstead NC real estate.

Types of Waterfront real estate North Carolina Deep Water
The types of water frontage we have in NC are the following:
river front
creek front
canal front
sound front
icw front
ocean front
marsh front
marina front
Is that enough for ya LOL!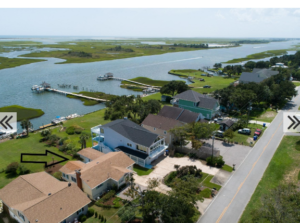 Waterfront NC homes
October 1, 2023
Waterfront NC homes by Price