Deep Water Boat Slip Homes for sale North Carolina Wilmington Boat Docks
Regularly I get buyers with 40+ foot boats that can't settle for any creek front home with a low tide that isn't deep enough for their prize.  They need "deep water" but with almost all Wilmington NC real estate websites there is no way to search for that niche.  Since deep water is such a sought after feature it is usually referred to in the listing remarks.  There is no variable in the MLS for agents to label their listing as such other than ICW waterfront home aka intracoastal waterway homes, bring your boat, wilmington homes with boat slips....You get the idea and excuse the grammar. However about half the time the phrase deep water is the lingo employed. For all the north carolina waterfronts you need to email me and the real MLS will serve you better. UPDATE -- we do have the "water depth 4+" search variables and it is effective. Typically deep water north carolina is located off of canals, sounds, some creeks and rivers and the ICW intracoastal waterway. This is a summary of direct water access 
boat slip homes
 for sale in 
Wilmington NC Real Estate
market.  It includes foreclosures and short sales with boat slips or boat docks.  Often people may not have a boat yet, but do have interest in direct water access for paddle boarding and kayaking.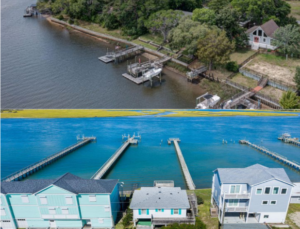 Flood insurance and Misc for intracoastal waterway homes boat docks
Some of the most common or well-known areas for icw front homes are Hampstead and Wilmington and Oak Island, Etc. Usually these homes are in an AE flood zone so their insurance is pretty inexpensive. For example with a $500,000 icw front home in Oak Island the flood insurance would probably be $1,500.  The wind and hail insurance might be $2500....What I want to know is how often people actually use their boats that own these waterfront homes :) Maybe the boats are like trophies that are meant to look pretty and impress people.  Just kidding!  so these boat dock homes below will be interesting. some have boat docks and others have slips.
Intracoastal Waterway homes real estate with Deep Water in Wilmington NC
Boat slip and deep water homes Wilmington NC
October 1, 2023