Landfall listings are at the bottom! In the near future I will add a ton of details and information using this blog tag about Landfall homes for sale in Wilmginton NC. Landfall--a gated golf course community near Wrightsville Beach, NC--is perhaps the most sought after community in the area.
Landfall homes for sale in Wilmington NC real estate
Landfall homes for sale and real estate are probably the most sought after in the Wilmington North Carolina real estate market. It's got that upper middle class ambiance to it with plenty of nooks that cater to the $1,000,000+ buyers in terms of exclusivity, etc. One of its main draws is being just a few minutes to Wrightsville Beach NC. Landfall has done great compared to other zip codes in terms of price recovery. While other neighborhoods were bottoming out it was already on its way back up in 2012. And as you can see below there has been a major bump the past 3 years 2017-2020 which is +18% increase in median sold price. So here are updated stats that are "live" going forward.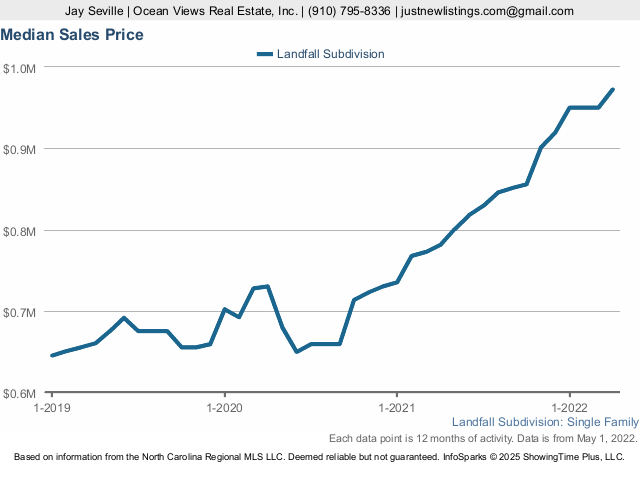 Whereas Porters Neck Country Club has had major financial issues and discussed or went into bankruptcy, there is no news of issues with the Landfall Country Club. A challenge that Landfall has is the lack of water access boat slip homes on the ICW. When the community was obtaining approval for development they had to agree to very limited water access. Perhaps 8 out of 1500 homes have a boat slip even though many more homes are ICW front or creek front on Howe Creek. Literally $1,000,000 of property value has been lost due to the unnecessary concession by developers while freedom was sliced away is my take. Is having a boat slip in your backyard harming the ICW ecosystem? #Seriously. So people that would love to live in Landfall have to find another neighborhood if they want a boat slip home in Wilmington. As is often the case the case as prices go up the days on market for Landfall goes down. So this is showing 2017-2020...but underneath it is a live feed of the days on market data.
Real Time Market Data landfall 2023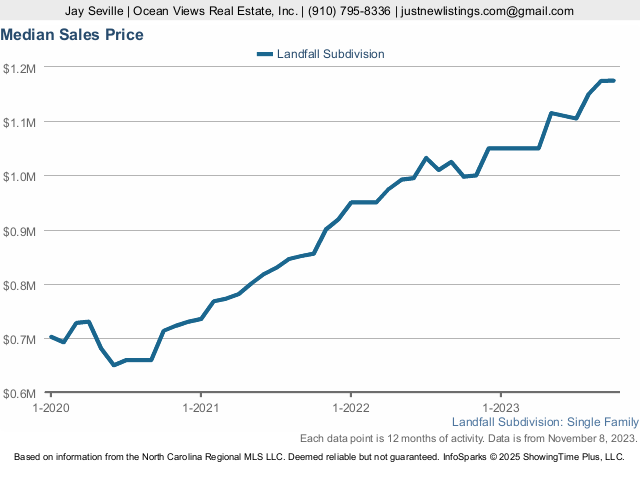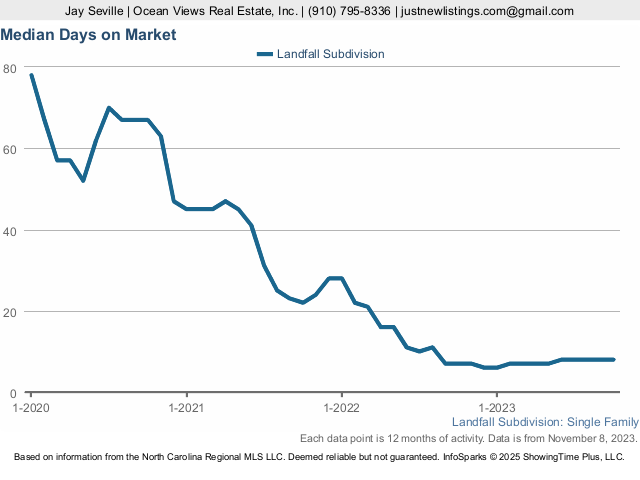 2022 Landfall real estate stats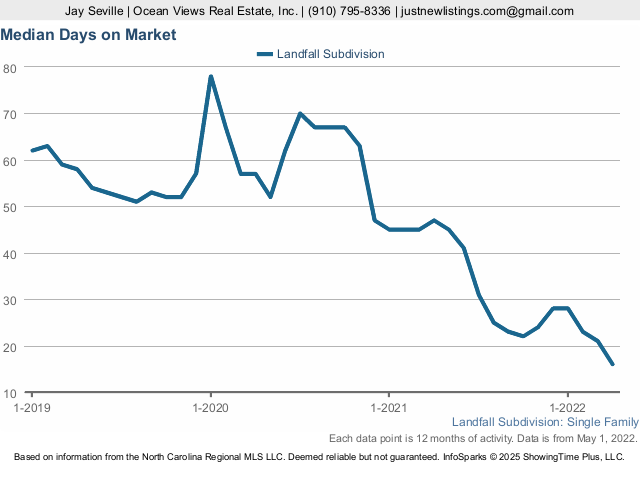 Months supply of homes for sale is down 25% approx and the average number of showings to get a contract is 55% lower. That is a seller's market for sure in 2020 the past few years. Now look at the 2022 months supply --- it's around 2 months. Really though in any price range...it's almost 0 much of the time.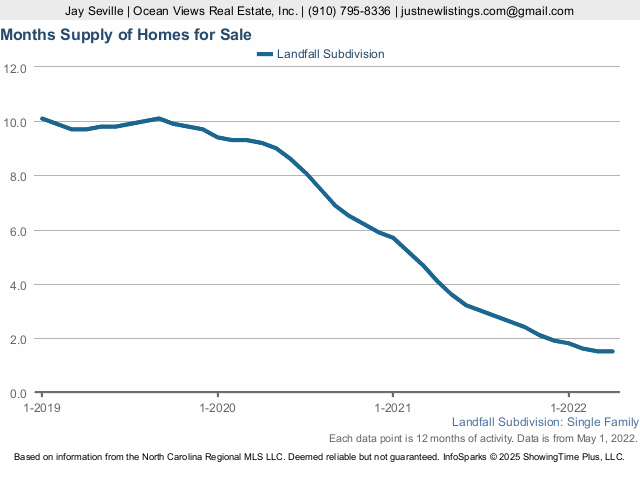 The average sold price to list price is 97%. Usually I get an extra 2-4% off of that FYI.
Prices have started to head back up and the local market is stable. The link above is to the Landfall real estate blog and there you can find lot more about the area especially in terms of market analysis.
Landfall Homes
December 4, 2023
$1,199,000
Med. List Price